Pentru a putea desfăşura activităţile pe care ni le-am propus, avem nevoie de sprijinul tău. Acest sprijin poate lua forme diferite, în funcţie de posibilităţile fiecăruia:

1. ADERĂ LA PARTIDUL NOUA DREAPTĂ

Dacă te-ai săturat de Partidul Unic al Corupţilor care a batjocorit România vreme de 25 de ani, nu te mulţumi doar să ne dai dreptate! Renunţă la rolul de spectator şi alătură-te Partidului Noua Dreaptă acum, cât încă mai avem pentru ce lupta! Formularul de Adeziune îţi stă la dispoziţie!

2. CANDIDEAZĂ LA ALEGERILE LOCALE ŞI PARLAMENTARE

Dacă şi tu eşti sătul de clasa politică actuală, trimite CV-ul tău la adresa This email address is being protected from spambots. You need JavaScript enabled to view it. şi precizează Primăria sau Consiliul Local pentru care vrei să candidezi. Innoirea clasei politice începe cu tine!

3. PROMOVEAZĂ SITE-UL PARTIDULUI

Promovează site-ul www.nouadreapta.org pe Facebook şi alte reţele sociale, pe forumuri sau propria pagină web, unde poţi afişa logo-ul de mai jos cu link către site-ul nostru.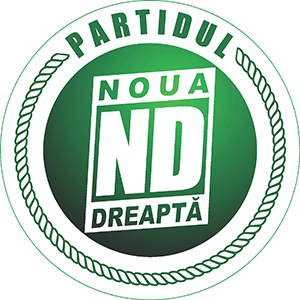 4. DONEAZĂ! AJUTORUL TĂU CONTEAZĂ!

Partidul Noua Dreaptă se află la început de drum. Ne bazăm pe tine în efortul nostru de a învinge partidele care au jefuit România.

De la materiale tipărite la panouri publicitare, de la apariții media și până la manifestări publice, totul necesită resurse considerabile.

Fă o donație astăzi! Sprijină Partidul Noua Dreaptă în efortul de a transforma România în țara respectată, prosperă și suverană pe care ne-o dorim cu toții! Îți mulțumim pentru contribuția ta!

Donatii prin transfer bancar

Dacă ați ales să donați prin transfer bancar sau prin depunere de numerar, folosiți contul de internet banking sau tipăriți pagina (CTRL + P) pentru a avea la îndemnână toate datele necesare când mergeți la ghișeu:

Destinatarul donaţiei: Partidul Noua Dreaptă

Adresa: Str. Viitorului nr. 81, sector 2, București, România

Număr de telefon: 0722 606 975

CIF: 35338285

Cont curent LEI: RO25CECEB20030RON4167359

Banca: CEC Bank, Agentia "Stefan cel Mare", Bucureşti

Adresa băncii: Șos. Ștefan cel Mare, nr. 54, Bl. 37, parter, Sector 2, București, România

Telefon CEC Bank: 021 2114337

Cod SWIFT: CECEROBU, Cod banca: CECE
How to get generics online at cheapest prices? Today, pharmacy is the unimprovable method to get any medicines for your needs. Let's discuss about varied medicines. Calan SR is a calcium channel blocker. This drug works by relaxing the muscles of your core. Thousands of adults order online such medications like Cialis. Cialis is a remedy used to treat few troubles. What do you already know about Levitra vs Cialis? Did read something about Viagra vs Cialis? Like many other medicinal products, Cialis is classified according of it's main ingredient. Sex drive problems are so commonly a product of what you've experienced that there is something to that "headache" saying after all. After all, such kind of difficulties can be an early warning sign of serious health problems, such as heart disease. So if you are experiencing erectile problems, it is great to see a qualified physician immediately for a complete natural testing. Do not take more of Cialis or any other drug than is recommended. The extremely first point check that when you buy medications online, you get real curing. Many of the online drugstores offer really unsafe fakes.
Editoriale

:: Interviuri :: Opini